Do you need a Prom Photographer for your School Prom in Dorset or the surrounding area? Your School Prom is one of the most important days of your life and we can provide you with a professional photography service. You have gone to all the trouble of getting dressed up and looking fantastic and what you want is great images of your night.
We provide a full mobile studio and printing on the night from the latest high tech printers – view before you pay on our large screens, you will receive great service from a professional prom photographer. The really important part is what does it cost? To book me costs nothing – yes I attend for FREE, there are no costs for the organiser or the school. We can offer pre-payment, printing on the night and of course they will be available from the Internet afterwards.
I am a local person, not an agent, when you book me I promise to give the best service available in Dorset, Hampshire, Wiltshire and Devon. Many venues are now stopping amateurs that have no insurance or who do not have their equipment professionally inspected – we will happily provide any venue with proof of such checks and insurance, something you would expect of a professional Prom Photographer.
We like to cover your prom from start to finish, where possible it is great to get the whole year in one image, after all it is probably the last time you will all be together, especially on a night like this. Being able to offer larger prints that most photographers can not do means you can buy a copy of the image on the night.
As a professional prom photographer we also like to get images of you arriving as it is always amazing to see the range of transport that you manage to select from horse and cart to double decker buses. These images are available on the night or later from our secure gallery system along with all the other images from the night.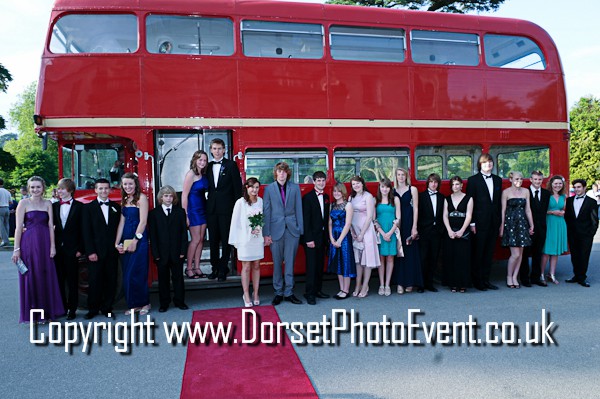 We now offer a free upload of all images sold on the night to our Prom Photographer Facebook Page for you to Tag and share with your family and friends. We also have a prize draw for all those that like us during the prom season.
So what do you want from your prom photographer? talk to us and we can provide you with advertising leaflets for all those attending. Have a theme? maybe we can work with you to add something extra to the party. I travel the country teaching other people how to be a prom photographer so I believe I can provide a service second to none, so what are you waiting for? Contact me to ensure you get a great Prom Photographer Dorset.
To find out more details either call us on Phone Mike:  07951 926304 or 01929 448108 or fill out the form and we will get back to you.